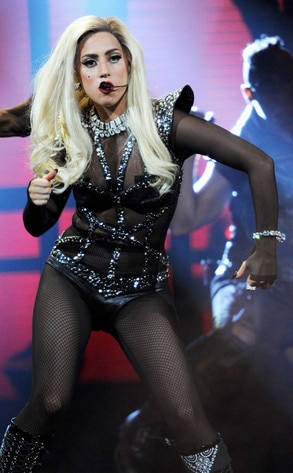 Lady Gaga hasn't forgotten about the young fan she lost this week.
During her performance at the I Heart Radio fest in Las Vegas last night, she dedicated Hair to 14-year-old Jamey Rodemeyer, one of her biggest fans who tragically killed himself due to bullying about his sexuality.
"I lost a little monster this week and I'd like to dedicate this song to him," she said, as a video montage with his photo played in the background. "Tonight, Jamey I know you're up there and looking at us and you're not a victim. Bullying is for losers. Put your hands up for Jamey!" (Check out the video on the jump.)
The night wasn't all serious and somber, though. She was introduced by Justin Timberlake, who joked around about her crazy costumes...
RELATED: Gaga fan commits suicide
"I was gonna come out here dressed in a giant egg," he quipped. "Someone told me the next performer did that already. Then I thought something a little crazier like a meat dress but then I guess she did that too!"
Gaga closed the two-day, star-studded music fest (where Jennifer Lopez, Coldplay and Jay-Z also performed) and was joined by a very special guest performer: Sting.
After a performance of Paparazzi, where she covered herself in fake blood for the ending of the song, the singer joined her on stage.
"The police are here!" she joked, before adding: "Sting is one of my favorite people in the whole world because when I started in this business, I started to meet real legends but they're not always very nice. Sting is one of the kindest, most loving people I've ever met."
The two hugged (with Sting getting fake blood all over himself) before breaking into a duet of Stand By Me.
Gaga also sang hits like Edge of Glory, Lovegame, Just Dance, Bad Romance and Alejandro during her set, which went over time, and joked about the rumors she has a penis.
"Okay Vegas, I don't know if you heard but I have a pretty tremendous dick," she joked, before making a lewd jerk-off gesture.
Over at the official afterparty at Haze nightclub, Gaga didn't make an appearance, but event host Ryan Seacrest held court at a VIP table with girlfriend Julianne Hough in tow. The E! News host was fairly mellow, chatting with execs and sipping cocktails, but Julianne was the life of the party.
The Footloose actress was dancing up a storm, singing and even jumped on a banquette at one point!
Also at the bash were Dr. Dre, Darren Criss, Ty Burrell and Eric Stonestreet.
PHOTOS: Vegas Party Pics